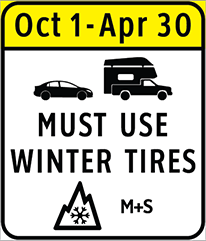 It's time to talk about tire and chain requirements again.
Every autumn it seems, many of us get caught off guard by Hemlock Valley's sudden change to winter. Particularly when it comes to new visitors to the village. Already, my wife and I have had to help rescue a pair of surprised travelers trying to reach Snowflake Crescent via Sakwi Creek Road during the first weekend of November. Try as they might, their eager little Honda just couldn't make it.
I first checked their tires and of course, they did not have the M&S or 3-peaked mountain/snowflake symbol on the sidewall. And there was really no point in asking if they had brought chains with them after the driver stepped out of his vehicle into the fresh snow wearing running shoes and no socks.
For short-term rental hosts and for owners still being cultured in alpine living, remember that from October 1st to April 30th every year, all passenger and commercial vehicles driving up the mountain should be using winter tires, and snow chains should be ready for service when necessary.
More information can be found on the BC Government website.
Hemlock Valley and Sasquatch Mountain Resort are tonnes of fun each winter. The HVHA and Hemlock Valley Volunteer Fire Department want you to enjoy all this wonderful place has to offer, safely.