FireSmart Canada has a program called the Neighbourhood Recognition Program. It's a way for neighbourhoods who collectively work at being more wildfire resilient can be a FireSmart Recognized Neighbourhood. Currently, there is only one recognized neighbourhood in the FVRD, which is Post Creek.
This summer we are hoping to spread the word about the FireSmart Neighbourhood Recognition Program by having Neighbourhood Champion Workshops. A neighbourhood champion is the leader in the neighbourhood that gets the ball rolling on initiating a FireSmart Committee and working with the Local FireSmart Representative to plan FireSmart events in their neighbourhood.
The Neighbourhood Champion Workshop for the Area C is planned for August 2 at 7 PM at the North Fraser Fire Hall #2 at 43824 Watkins Road. We are looking for people that want to take the initiative in their neighbourhood to work at being more FireSmart. This is an information evening where we will present the Neighbourhood Recognition Program. Tapadera Estates may be a good option to be a FireSmart Recognized Neighbourhood. Below is a link that talks about the FireSmart Recognition Program.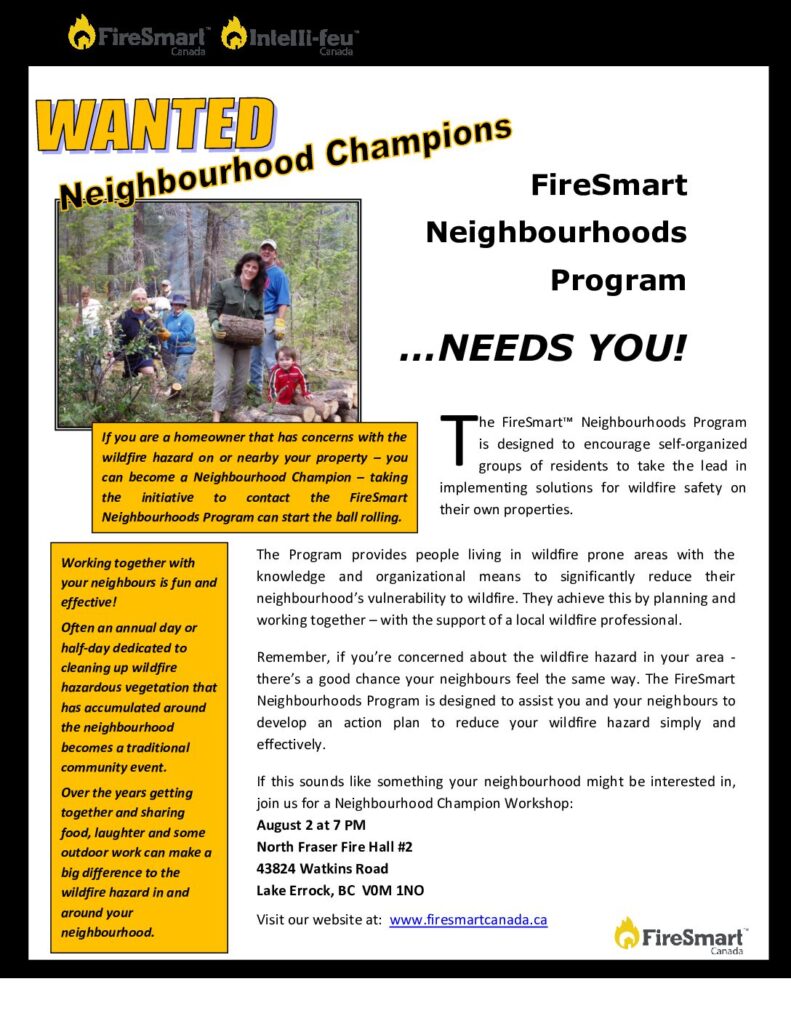 If you know of someone that would be a good neighbourhood champion, please pass on this information to them. Sorry for the short notice.
Regards,
FireSmart Coordinator
Fraser Valley Regional District
1-45950 Cheam Avenue, Chilliwack, BC V2P 1N6
604-702-5065  |  fvrd.ca